VoIP has been a hot topic in the business world recently. While a great number of businesses have made the switch from a standard phone system already, many of those who have not are left questioning "what is VoIP?" and "what businesses are really getting from switching".  
What is VoIP?
VoIP stands for Voice over internet protocol, or in simpler terms, a new type of technology that allows people to make calls using the Internet instead of using the conventional or analog phone system we know so well. This technology works by converting the sound of your voice into digital communication and then sending it through Internet. VoIP was created in order to provide its users 2 main benefits, savings, and convenience. In a majority of locations around the world, traditional phone systems can be fairly expensive. VoIP allows its users to access communication anywhere in the world for the same price, and with an arsenal of advanced features that traditional packet switching telephone networks (PSTN) cannot provide.
How Does VoIP Cuts Costs?
PTSN networks charge its users by the minute and can get very expensive when making long distance calls. Because VoIP uses the internet to make phone calls, the only bill its users get is the bill paid to their internet service providers and or their VoIP hosting providers.
Did you know: 50 % of a voice conversation is silence. That's right, half of your phone bill is paying for silence!
Don't worry, VoIP technology has mended this pain. The silence spaces between the conversation on a VoIP call are used to send data from whatever else you are doing on the internet so that the bandwidth in communication is not wasted. For companies that engage in heavy telephone use in departments such as telemarketing or customer service, VoIP becomes a vital tool. Think about all the money saved by not being charged for each minute of call time, and moreover, every second of silence during those phone calls.
Is Your IT Service Provider Covering All Your Needs?
Contact The Experts At Technology Visionaries LLC to get the service you deserve!
How Does VoIP Provide Convenience?  
Office Phone Anywhere
VoIP technology opens the ability to communicate anywhere in the world where there is internet which is, well just about everywhere. A great convenience that this offers is that no matter where you are, you can connect, and use another VoIP phone as if you were using your phone at your desk. You can also use your cellphone to make calls through a number of downloadable applications. This is called using a softphone, and is a life saver in many situations:
• Power outages
• Office moves/relocations
• Internet crashes
• Working from home
• Working out of town/country
• In-home businesses
Application Integration
Another great convenience feature VoIP offers is that it integrates with other business systems that you use every day such as Microsoft Office and SharePoint. You can do things like placing outbound calls through Outlook or other email clients or bring up a customer record with that customer's inbound calls. This integration comes very easy, especially when using a hosted VoIP service provider like Technology Visionaries LLC.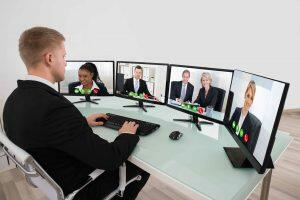 Conference Calling When using traditional phone systems, only two people can speak with each other at a time. With VoIP, you can easily set up a conference with your entire team. This is because VoIP compresses data packets during transmission, allowing more data to be processed by the carrier, and the ability to handle more calls on one access line.
Voicemail Like You've Never Had Before Traveling for work? VoIP allows you to access your voicemail anywhere in the world. It even has the ability to transcribe your voicemails into text documents for keepsake. This is a great tool to avoid replaying voicemails over and over again to take notes on what each message is portraying. Instead, everything is now sent to your email in text for you.
Hosted VoIP Service
What is it? Having hosted VoIP means that you are using a third-party company to maintain your VoIP phone system. This includes using their servers for making calls, having integration of programs your phone system will interact with installed and set-up for you, and handling any issues your company runs into with the system.
Why do most companies have it? Getting hosted VoIP really is the smart way to go. Many of the benefits of switching are lived through the ability to use your company's phones when tragedy and abnormalities occur. A few examples are during a power loss, an internet outage, while moving an office to another location, or working out of the office. When you are using a hosted VoIP system, you are able to use your phones anywhere in the world, but if your server has no power or is suffering issues, these luxuries won't work. If you are hosting your own VoIP system, you are held accountable for any issues. Using a hosted VoIP provider's server prevents this from happening.
You might be wondering… "Having your office phone accessible everywhere sounds very convenient, but could that jeopardize the security of my data and privacy of my calls?" 
Security
A key factor of maintenance that hosted VoIP providers tend to is the security of your phone system. Cybercrime is on the rise, which means your data is in danger more than ever before. Having the defense shield of your hosted VoIP provider to protect your calls and important data such as faxes, images, and personal contacts transferred is vital to protecting your business.
Keeping you up to date
Hosted VoIP providers typically have great knowledge of the business systems applications that can be integrated with these phones, and how to set up key functions that greatly benefit business productivity and costs. Integrating applications like Microsoft Outlook, Skype, Reach UC, and many others can be done on your own but can take a lot of time, patience, and rendering of settings to get working the way you want it to. Like most business systems application you use, functions and settings are constantly changing. A particular application you may have been using last year might not be the optimal application this year. Hosted VoIP providers maintain and update your phone system for you, and update them with these changes that will keep your calls secure and be operating fluently.
What Do I Need To Get VoIP?
  The Very Basics (for applications like Skype and Net2Phone)
• Computer
• Broadband Internet access with a decent speed (5mb/s download, 5mb/s upload)
• A sound card
• Speakers
• A microphone  
RecommendedOptimal Hardware and Tools
• A VoIP capable phone
• Accessibility to ethernet outlets
• Subscription with a hosted VoIP provider
  What's the Bottom Line?
VoIP Technology offers an array of valuable features that make traditional packet switching telephone networks a thing in the past. It creates the ability to conduct business from your office anywhere in the world, engages in full business conferences easily over the phone, and conveniently sync with your existing business system applications, all while saving you a boatload of money and time. VoIP is the way to go if you are looking to lower your cost of doing business, avoid loss of communication with your clients and increase productivity. Using a hosted VoIP provider is highly recommended if you are a company that relies on maintaining communication with clients, suppliers, and partners. This will ensure that you are receiving the best security and functionality of VoIP and that your phones never go offline.
Finding the Right Hosted VoIP Provider is Key If you are looking to upgrade your phones to VoIP technology, check out Technology Visionaries LLC in Woodbridge New Jersey. We are the premier IT support provider in New Jersey. Visit our website to find out more about our hosted VoIP services and how to schedule a free system evaluation.
Ready To Make The Switch To VoIP?
Contact the tech experts at Technology Visionaries LLC today