IT Support Center in New Jersey
Technology Visionaries knows how challenging it is for small businesses to keep up with their technology and network demands. Without an in-house IT team, minor issues can be easily neglected and could lead to bigger problems and costly inefficiencies. That's where we step in.
Our mission is to help small businesses function like large enterprises by delivering fast and proactive technical support at an affordable cost.
Whether you're dealing with a glitch, spyware, or any system or network issue, reach out to our help desk support team. We'll respond promptly to diagnose and fix the problem.
We provide first, second, and third line technical support to small businesses in New Jersey. With our extensive capabilities and cutting-edge infrastructure, we can handle any issue you have with your IT and communications systems, big or small.
Follow the instructions below to know how you can connect to our support center.
You can also call or email us today for a free network health checkup.
Open a service request from your computer
1. Look in the lower-right corner of your computer screen where the clock is located to find our icon.

2. Right-click on the icon and choose Create a Service Request.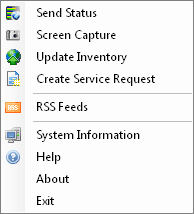 3. Fill out the forum and click the send button. You can also attach a screenshot of an error with the Attach Screenshot button.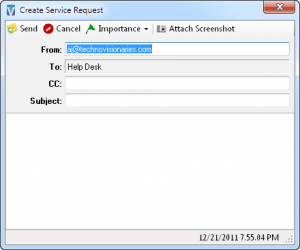 Telephone Support
Call 732-587-5960 Option 2 (Technical Support)
Submit a Support Request
[contact-form-7 id="14125″ title="Contact form 1″]