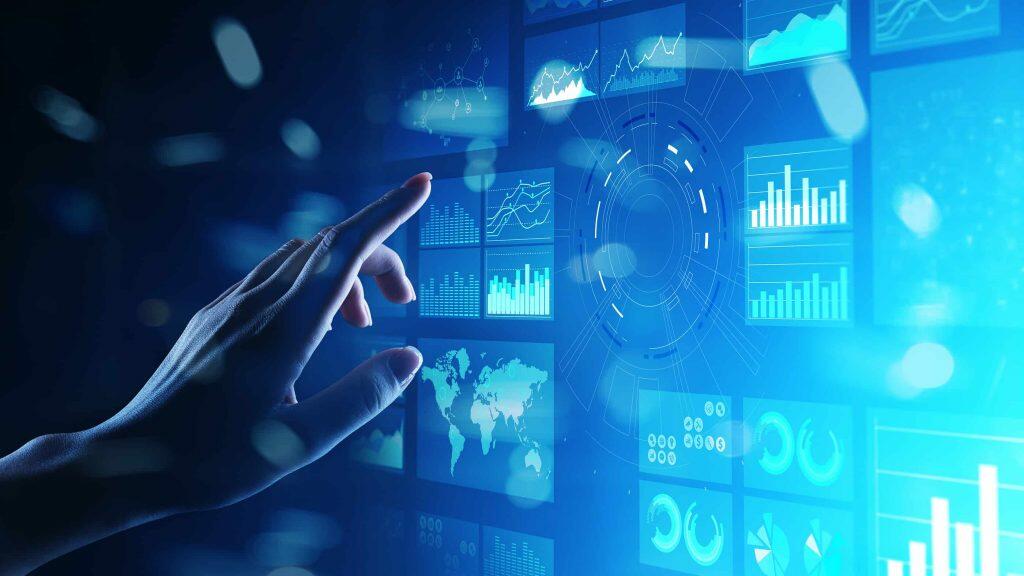 If you're like most companies, you have data coming in from all directions daily. Lead generation data from Google analytics, conversation and sales data from your CRM, and production cost and efficiency data from your accounting program.
All that data provides nuggets of wisdom helping you know which marketing methods are working, where efficiencies are needed, and where to best spend money to convert new leads.
Unfortunately, many companies have trouble harnessing all their different data sets into meaningful and comprehensive reporting that can steer their business in a profitable direction.
What important insights might you be missing by not using a business intelligence tool for analytics?
Companies using analytics are 5 times more likely to make faster decisions.
Technology planning, setup, and management are all part of the quality cloud services that Technology Visionaries provides to New Jersey businesses. Part of any strategic IT planning is to not just capture data and store it securely, but to also be able to fully utilize it to make smart business decisions. That's what Business Intelligence (BI) Dashboards are designed to do.
What is a BI Dashboard?
A BI Dashboard is an application that's designed to aggregate data from multiple sources and provide you with meaningful and real-time reporting.
Business Intelligence Dashboards use data visualization to make reporting things like key performance indicators (KPIs), analytics metrics, and other important data points more comprehensive. The "dashboard" is a single page that helps tell the story of your business and where you're going, according to the numbers.
If you've ever looked at a sales spreadsheet full of columned numbers and tried to make sense of out of it, you know that just having the raw data isn't generally enough to shape good business decisions. Where BI Dashboards excel is putting the data into a visual format that makes sense and informs decisions.
There are multiple BI Dashboard out there that you can use, here are a few of the most popular:
Microsoft Power BI
Domo
Oracle BI
Sisense
IBM Cognos Analytics
Example of a Business Intelligence Dashboard by Domo
The Profitable Benefits of Business Intelligence Tools
Being able to understand what's happening in your business through your data can improve your bottom line in multiple ways, and companies are taking notice.
Data analytics, along with cloud and IoT, are one of the three things predicted to have the biggest impact on businesses over the next 3 to 5 years.
Here are some key ways your company can benefit by using BI Dashboard technology at your office.
Automate Reporting
Is your company still living in the world of spreadsheets when it comes to your KPI reporting? Having someone manually enter data aggregated from different sources is time consuming and offers the potential for data entry errors (and wrong decisions based on those errors).
A BI Dashboard automates data collection and reporting, eliminating the need to manually enter data into a spreadsheet. And because data is coming directly from the source, it's more accurate and the chance of a mistake is greatly reduced.
Designed to Be Easy to Read
Rather than spending hours pouring over pages of reports, Business Intelligence Dashboards are designed to display key metrics on a single page that is user-friendly. Their use of multiple graphs and charts helps bring the data into a more visual format that takes less time to digest and thus less time to act upon.
Accelerate Important Business Decisions
Say you have a new Pay-Per-Click advertising ad that's costing a lot in clicks, but not generating sales. If you're just reading the PPC reports when you have time and they're not directly connected to the sales dollars (on another report), it could be weeks before you realize that the great click-through-rate on that ad is just bleeding money.
A BI Dashboard is designed to connect the dots between different sources of data and do it in real-time. So that you can make faster decisions about things that impact your business bottom line.
Find Hidden Gems
Often there's one piece of data that can shed light on an issue or opportunity but doing data collection manually makes it nearly impossible to aggregate every source possible, and an important data point can stay hidden.
The automation of BI Dashboards make it possible to easily bring in multiple sources and see what stories they have to tell. So, you can see a customer sales chart from one source in a report along with a product cost of goods chart from another, for example.
Most BI Dashboards advertise being able to connect to hundreds of different data sources coming from application sectors such as:
Services
Financial
HR
IT
Marketing
Operations
Sales
Easily Customizable
The customization features of BI Dashboards allow you to tailor separate dashboards to different departments or to the preference of how each manager likes to visualize the data.
You're not locked into any particular type of chart visualization or a single spreadsheet and can chose the format with a mouse-click that best speaks to you and helps you understand and act upon your data the best.
Get a Better Understanding of Your Business Through Your Data
If you're interested in learning more about BI Dashboards, Technology Visionaries can show you the top applications on the market, give you a demonstration of what they can do, and help you with a custom setup.
Contact us today to learn more about Business Intelligence at 732-587-5960 or through our contact form.