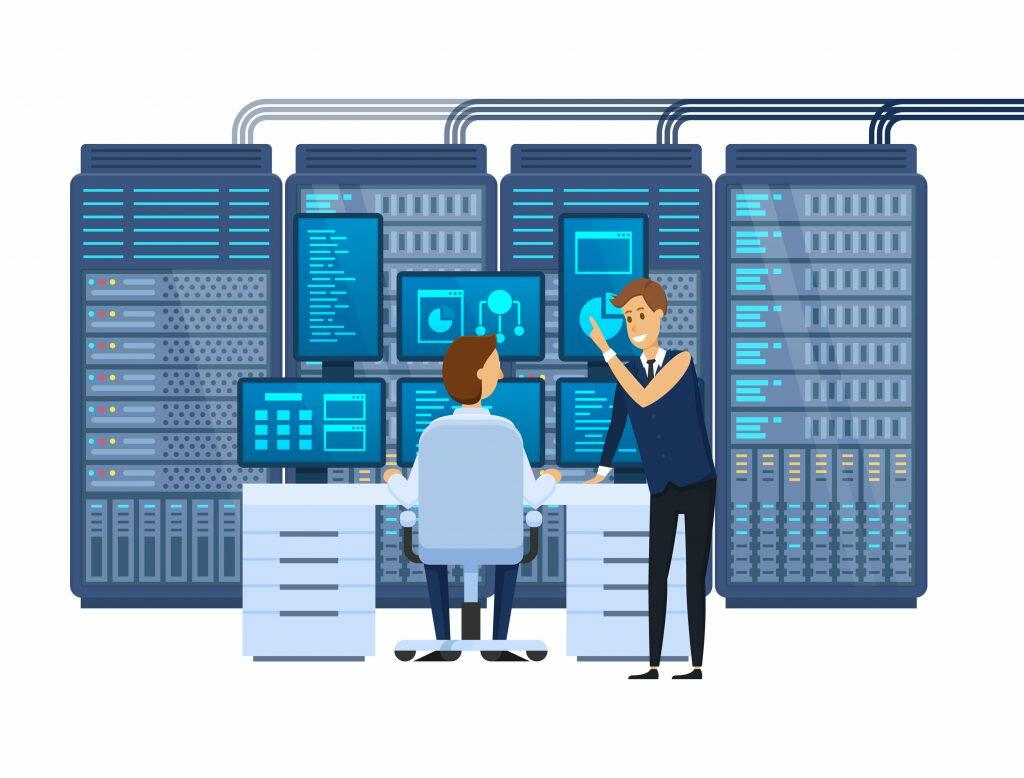 A customer calls because they're having trouble checking out on your website. Could this be the reason for the low sales this week? When your team checks it out, sure enough a recent WordPress plugin update has broken your shopping cart that was working properly just a few days ago.
In today's offices there can be multiple updates to operating systems, software, hardware, and website themes and plugins that are happening simultaneously. Trying to keep up with them all can be a more than full-time job, which is why getting help with website and network monitoring can save time, missed opportunities, and reduce the amount of "three-alarm fires" that you have to deal with on a daily basis.
43% of cyberattacks target small businesses.
Cyberattacks, like ransomware, are continually on the rise, and unless you're constantly monitoring your network, computers, and other connected devices for threats, it's easy for one to slip by undetected and infect your system without you even knowing it.
The types of attacks that companies are experiencing, some on their websites and some on their network, include:
Denial-of-service (DoS) attacks
Phishing and spear phishing attacks
SQL injection attacks
Malware & virus attacks
Password attacks
Cross-site scripting (XSS) attacks
The shear volume of these attacks, which keeps increasing each year, makes it a necessity for many companies to institute monitoring to proactively catch any incidents before they cause major, costly outages.
Advantages of Network & Website Monitoring
It's nearly impossible to properly monitor your computers and business network without the right tools and knowhow. A monitoring program can make sure you're notified immediately of any problems so they can be addressed before something goes down and results in downtime and lost productivity.
While website and network/computer monitoring might use slightly different methods, each is vitally important to your business health. Here's why.
Stay Ahead of Costly Network Outages
The average cost of IT downtime is $5,600 each minute! While costs can vary according to industry, 98% of surveyed organizations said that just one hour of downtime cost them over $100,000.
Network and computer monitoring allows any anomalies or risks to be caught right away so they can be addressed before they impact your business. Monitoring provides live network performance data that helps identify any bottlenecks or other potential problems proactively.
Keep Your Website from Being Attacked
Attacks on websites can cause your virtual storefront to crash and go down, meaning you're missing multiples sales and lead opportunities. And if you're running pay-per-click advertising campaigns to your site, all that money is going down the drain by directing people to an error page.
Because websites have to be responsive these days to show up properly on mobile devices, many companies use platforms like WordPress. One drawback is that they also often need multiple third-party plugins for site functionality which leaves multiple points of entry for a hacker.
Proper website monitoring watches for any strange activity that could be the sign of an attack, such as excess memory usage, so it can be stopped before taking your business offline.
Identify Threats to Security
Data breaches put many small businesses out of business and are costly both in money and lost customer trust. Network monitoring can watch for any suspicious behavior and catch new malware by using AI that looks for patterns and abnormal behaviors.
Network and computer monitoring is a first line of defense, keeping a watchful eye out for any security threats so action can be taken before your network is infiltrated.
Ensure Visual Integrity of Your Website
Your team worked for hours to incorporate just the right color scheme on your site, now a recent theme update had caused all your bullet colors to change, clashing with your header colors and making your site look second-rate.
It's not uncommon for elements like colors, carousels, and sliders, to be changed or broken with a theme update, especially if it's installed right after the update is released.
With website and update monitoring and management, you can save hours of frustration trying to backtrack what a website update might have changed and ensure the visual integrity and usability of your website remains intact, while also installing security-dependent updates in a timely manner.
Keep Equipment Performing Efficiently
How do you know when it's time to upgrade a computer or piece of network hardware? Monitoring provides signs when a component is reaching end of life and can help you time the upgrade process so it's not earlier than it needs to be, but is before any efficiency degradation, optimizing your IT budget expenditures.
Sign Up for Free Computer Monitoring with Technology Visionaries
We offer New Jersey businesses a one-of-a-kind service, free computer and network monitoring. You'll be notified of potential problems before they cause you costly downtime and then you can chose to either address them yourself or have us fix them for you.
Take advantage of our complimentary monitoring service by signing up here.