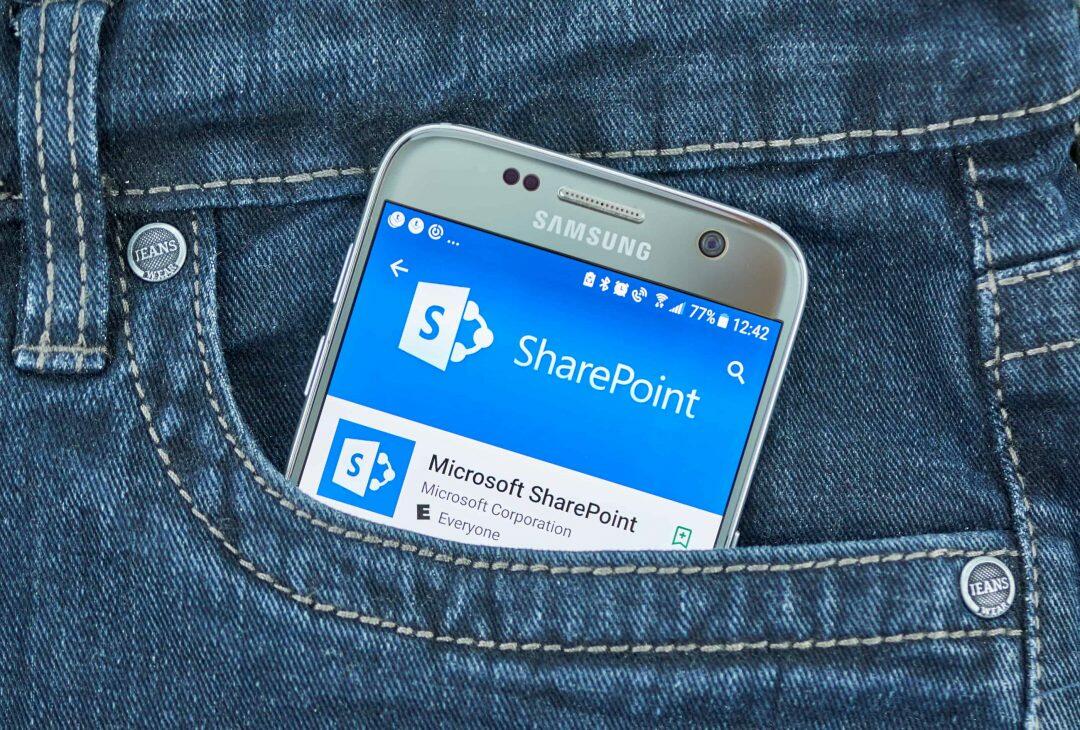 In our work providing effective cloud-services to small and medium-sized New Jersey businesses, we often find they have been missing out on several advantages of one little gem in the Office 365 suite.
Companies typically make the move to Office 365 for the core programs – Word, Excel, PowerPoint, Outlook – in a flexible mobile-friendly format, but this subscription offers another powerful productivity tool that companies may not be as familiar with, SharePoint.
Just as the name implies, SharePoint is designed to facilitate file sharing both inside and outside your organization, but that's only the tip of the iceburg when it comes to collaboration and productivity-boosting features.
Technology Visionaries is dedicated to providing businesses with state-of-the-art IT solutions that are also cost effective and save them both time and money, while helping them do things better. We thought we'd take a moment to go through this stellar application and tell you all the great things your company can do with it.
First, let's go over what SharePoint is, then we'll get into some tips and tricks that can positively transform your office workflows.
What is SharePoint and What Does It Do?
SharePoint is included with your Office 365 Business Essentials or Business Premium subscription. It's a platform that allows you to dynamically share and manage content, knowledge, and applications.
One of the key features is the ability to easily create small sites that can be used internally or externally for information sharing. Giving you the ability to promote seamless team work and collaboration inside and outside your organization.
Employees that collaborate stay on task 64% longer than those that don't. (Forbes)
Collaboration isn't just about feeling good while working, studies show that it improves an employee's ability to stay on task, improving workplace performance.
Here are some of the key collaborative features of Microsoft SharePoint:
Cloud-based file sharing

Collaborate on files together

Set up Team Sites or intranet sites

Share news, files, and resources

Share applications across your organization

Accessible from desktop and mobile

Create tasks and set deadlines

Enterprise search capabilities

Security and permissions features
SharePoint Tips & Tricks Your Office Will Love
The best way to really dig into SharePoint and fully understand the program's capabilities is to look through some tips, tricks, and best practices that other's have used to reduce costs, eliminate manual tasks, and transform inefficient workflows into super-efficient ones.
Here are some of our favorite ways to use SharePoint to make your business better.
Create a Portal for Company-Wide Communications
Are your company-wide communications getting lost in email inboxes? With SharePoint, you can create a company portal – aka website page only accessible by your staff. This allows you to easily add notices about upcoming holiday schedules, inspections, or softball games in a place where everyone can access it and a way that communicates dynamically. Individual departments can also set up their own mini-sites, keeping everyone informed of their latest news.
Filter Information with SharePoint Views
If you're getting information overload and need to see information from just a specific area of your organization, like sales and marketing, you can use views in SharePoint to filter your default information display to show you exactly what you need and filter out the rest.
Create Electronic Forms
Do you need to gather specific information from vendors in order to get them in your system? Shorten the process by using SharePoint to set up forms that vendors can access online through a web browser. They have built-in data validation rules so you can ensure you get the information you need and download the data directly into your vendor management program, eliminating the need to re-enter it into another program.
Create a Customer Service Wiki
Help your customer service team be more effective by capturing your corporate support wisdom into an internal online Wiki that your customer support team can access. SharePoint's collaboration features allow different users to add helpful content to a single corporate Wiki for everyone to benefit from.
Use a Group Calendar
Scheduling meetings can be streamlined when you use a group calendar for your entire office and/or by department. Each person can view the shared calendar and can easily find the best time for scheduling a team meeting without all the back and forth emails.
Use Labeled Libraries for Asset Organization
You're creating a client presentation and you need those new case study photos to add… but who has them? Looking for files and company assets can be a drag on productivity, but with SharePoint you can create labeled libraries. These asset libraries can be shared with whomever you like and give your team access to documents, photos, notes, videos, artwork, and other corporate assets instantly.
Keep Projects on Task
SharePoint doesn't just let you share information, you can actively manage projects with the application. You can set deadlines, tasks, and create approval workflows that keep documents moving from one stage to another automatically.
Get Help Setting Up Amazing SharePoint Workflows
Technology Visionaries can work with you to set up SharePoint sites, workflows, and asset libraries so you can take advantage of real-time collaborations.
We also offer affordable and secure SharePoint platform hosting. Schedule a free consultation today online or call us at 732-587-5960.